Copyleft: This work is free, you can copy it, distribute it and modify it according to terms of the Free Art License www.artlibre.org

Provided by royalty free music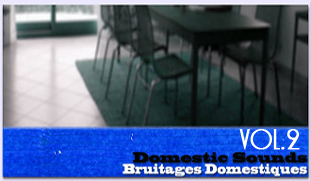 Free sounds September 2013:
Domestic Sounds Vol.2
atmosphere kitchen1.wav
atmosphere kitchen2.wav
atmosphere kitchen3.wav
atmosphere kitchen4.wav
atmosphere kitchen5.wav
Cat and ice cream.wav
Cat ronron.wav
Crowd children noise1.wav
crowd noise.wav
crowd noise2.wav
drill.wav
garden birds.wav
garden birds1.wav
gas cooker.wav
irregular Metronome.wav
Kitchen hood1.wav
Kitchen hood2.wav
Kitchen hood3.wav
Kitchen hood4.wav
lighter.wav
Mower.wav
Mower1.wav
Mower2.wav
Opening Closing small jar.wav
Opening Closing small jar1.wav
Quick Metronome.wav
Tic-Tac1.wav
Wash small jar.wav
Wash small jar1.wav
Works - drill - hammer.wav
Works - drill - hammer1.wav
33 file(s) 505.006.330 octets
To download the free Domestic Sounds Vol.2 Click HERE
Feel free to follow me on social networks (Facebook, YouTube, Twitter ...) Thank you..
Good listening and see you soon ..
Hicham.
* By subscribing to the newsletter you receive when available a bank of sound effects for free, plus you are aware of the new royalty free music available online. The newsletter is sent up to two times a month, your e-mail will never be shared with third parties, and you can unsubscribe at any time.