Instruments virtuels gratuits
REDSHIFT Live audio pitch shifter
Créé par Benoît Serrano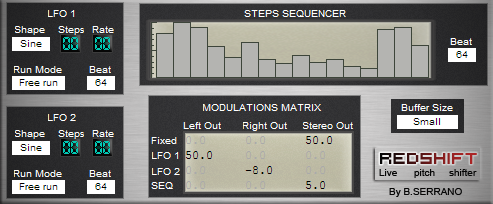 2 LFO host BPM syncable
1 16 steps sequencer
Modulation matrix
ECHOLIVE
Créé par Interruptor

The delay time can be defined by tapping the tempo with the mouse or on a midi keyboard or midi controller
alternatively the delaytime can also be set manually or synchronized with the host application.
latency compensation: you can compensate your soundcard's latency for perfectly timed echoes in live applications.
tape model including tape saturation, tape hiss, wow & flutter, low and high pass filtering, smooth parameter for continuous delay time changes like on a real tape delay
stereo-control: ping pong delay, time symmetry, stereo width
all parameters are controllable by midi controllers.
pop-up hints help to understand the function of each control on the user interface. These appear when the mouse rests over a control.
also the assignement of midi controllers is documented in the pop-up hints
X-CITA Analog style exciter
Créé par Elogoxa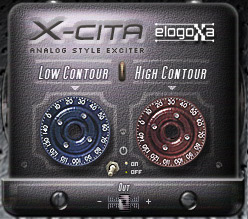 Analog style exciter for mastering purposes,
inspired on the BBE Maximizer models. Its warm sound and simplicity of using makes this exciter very suitable to add some subtle brightness in the high frequencies, and also make the lows more dense. Apart from the mastering stage, you'll find that it can also make a good work on individual tracks.
maelcum tape delay
Créé par Aaron Rutledge (Tweakbench)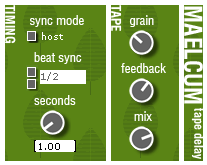 maelcum is a tape-like delay module. designed specifically to emulate the classic tape delays, maelcum has internal tape noise generation, with variable mix, and either tempo based or manually entered delay time. rub a dub dub.
cairo tempo gate
Créé par Aaron Rutledge (Tweakbench)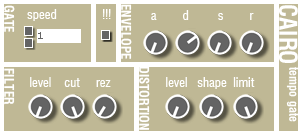 cairo is a tempo synchronized gate effect. choose a gate speed, and modify the envelope to cut up your audio into different sized slices, with soft or smooth edges. version 1.2 features: 8 new presets, independant mix for filter and distortion, improved performance & compatibility. the speed paramter can now be automated on CC 23 (or by autolinking on the up/down boxes, not the dropdown menu).
W1 Vst Limiter
Créé par George Yohng

W1 Limiter is a clone of Waves L1, with identical output.
ANALOGIC DELAY
Créé par Interruptor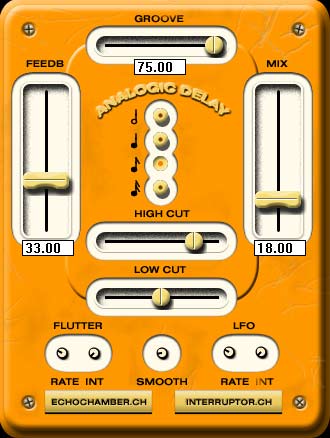 This plug-in mimicks the tape delay in Logic Audio.
tape model including tape saturation, wow, flutter, low and high pass filtering
The delay time is not entered in milliseconds but as a notelength (in relation to the song tempo in your sequencer). The Groove parameter allows fine tuning from tripplet to dotted note timing.
parameter "Smooth" creates continuous delay time changes like on a real tape delay (no digital clicks when changing delay time during the song)
all parameters are controllable by midi controllers.
pop-up hints help to understand the function of each control on the user interface. These appear when the mouse rests over a control.
Also the assignement of midi controllers is documented in the pop-up hints

KTGranulator delay line granulator
Créé par Smartelectronix
1A delay line granulator with pitch shifting, feedback, panning and freezing. Chops up a mono sound stream into small grains and rebuilds a stereo sound stream from the processed grains. Available as VST effect and Audio Unit.
AMBIENCE Reverb (excellente reverbe!!!)
Créé par Smartelectronix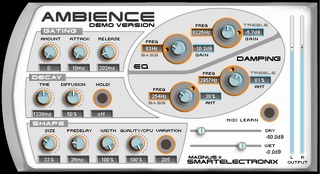 Ambience is a reverb that rivals the quality of the best commercial reverbs. You are free to decide yourself how much you want to pay for it, and when.
NyquistEq Parametric graphic equalizer
Créé par Smartelectronix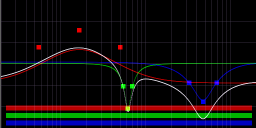 Parametric graphic equalizer with excellent response all the way up to Nyquist. It never clicks, and it handles deep bass well too. The Nyquist frequency is the highest representable frequency for a given sample rate. The trebliest of the treble. Most other digital eqs have great problems producing a natural sound here.
BAXXPANDER bass expander unit
Créé par Elogoxa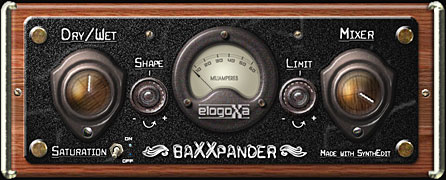 Vintage style saturation/bass expander unit,
presented as VST effect. We think this plugin is specially good to add warmth and saturation to drums
and basses, and with vocal tracks that need a little punch. It uses very little CPU, and includes 8 factory presets.
GLACEVERB reverberation plugin able to modelize liquid acoustic spaces like water
Créé par DASAMPLE

GlaceVerb is the only VST reverberation plugin able to modelize liquid acoustic spaces like water. Unlike other reverbs with presets named Room, Cathedral, Stadium etc., GlaceVerb is very easy to use and comes with 64 hi-quality presets designed for real musical situations (including presets for final mix, strings, piano, vocal tracks, drums, percussions and ultra transparent presets for high-end masterings).
Autopan autopanner
Créé par Oli Larkin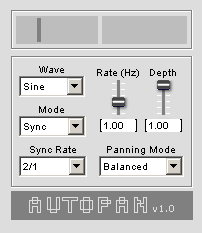 Basic autopanner with different LFO shapes and panning modes
Bass Chorus Chorus/flanger designed especially for bass
Créé par Clone ensemble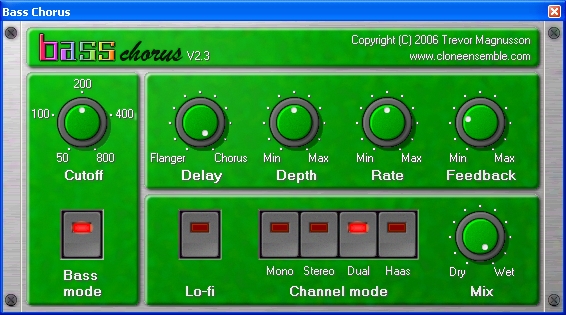 Have you ever used a stereo chorus on a bass sound and ended up with a muddy bottom end swimming all over the place? Bass Chorus can avoid that problem by separating the bass and treble frequencies, where you set the cutoff frequency. The effect is only applied to the treble portion, which is then mixed back with the bass for output.
TubeDriver VST plug-in for warm tube saturation
Créé par Nick Crow

It is a tube amplifier designed to enrich the signal with warm tube saturation. It`s based on real tube stage modeling.
Leveling Amp Leveling Amplifier
Créé par Dream Vortex Studio

Inspired by popular analogue limiters of the past, this Leveling Amplifier is ideal for mastering or controlling the dynamic range of a track, it's response to peaks is very fast with a slow realease for minimum distortion even when driven hard.
GRATTEENGINE Module de distorsion pour guitare
Créé par Doctor H

Gain d'entrée ajustable
Réglage du seuil à partir du quel la distorsion est activée
Réglage de la presence du signal (Brillance)
1 Filtre resonnant ( freq et taux de resonnance parametrables)
1 Delay avec retard, feedback et mix
3 type de reverbes (Normal - Freeze - Gated)
toutes les reverbes avec size, widht, damp et mix réglables.
Patience des centaines de vst gratuits attendent d'être encodés!!
Utilitaires pour musiciens
Apprendre et perfectionner un instrument